Great swimming inflatable for babies
A must-have to buy! That is to sum up the quality of this product. If you're having your little one getting used to water, or if you are planning to have your baby introduced to swimming lesson or you just want your baby to enjoy bath time in the tub, you got to have this baby float!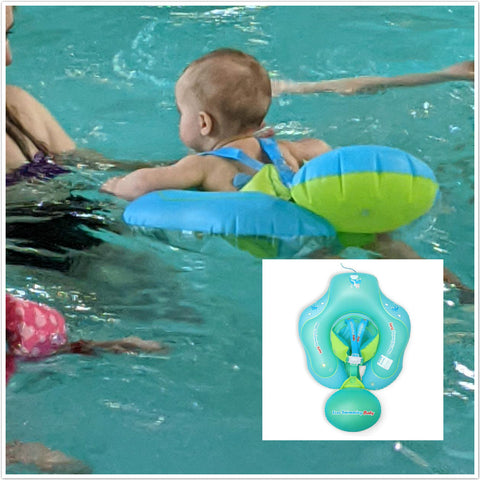 At first I was adamant in buying but i gave it a shot because its really cheap.The product arrived on time in a great packaging. It came with a manual hand pump that filled the inflatable with air within matter of minutes. The box came with instructions too but it's a total easy assemble. We love the blue-green color design of the item which is essential if you have your baby in a big pool.The texture of the plastic is soft matte and its thick enough that suffice it's durability. It doesn't have a smell so its safe for baby's sensitive nose. Upon inspecting, there are 3 little bells inside the inflatable which makes baby entertained in the water. There is a soft-bottom support where the baby sits so he doesn't slip. We put our baby to test and he didn't freak out. He seemed to enjoy being in the inflatable and in the water. They also provided 3 strong latches which is, for me, the most important feature of this product: the adjustable straps for the neck and shoulders, inflatable waist snaps and strap from baby's bottom part where he sits. All these 3 secured features clicked on one-buckled designed. For extra security, there's an optional bonus attachment where you can insert the little rope that came in the package.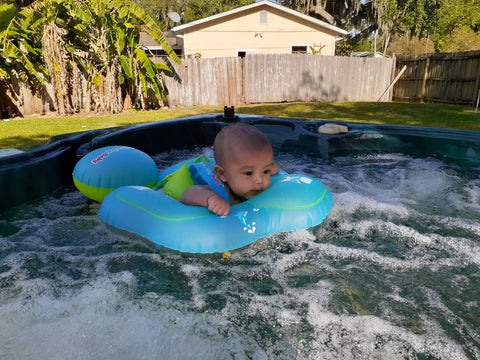 As a parent, it's a relieved that my baby is secured and I'm worry-free about possibilities of drowning while being in the pool/water. This product's quality is exceptional! I love everything about it! It's cheap and worth every penny. It's topnotch that I highly recommend this infant inflatable to all parents out there who wants their baby to learn swimming and enjoy the water. To buy this product, you can check it at Amazon: https://amzn.to/2yFDE1S
Content Written by Vianca.